The creation of Vermulst Verhaeghe Graafsma & Bronckers - and everyday life in a boutique-style law firm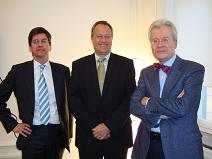 Peter Verhaeghe, Marco Bronckers and Yves Van Gerven, Partners at VVGB

Brussels Legal sat down with three of Vermulst Verhaeghe Graafsma & Bronckers' partners and talked about the creation of VVGB and everyday life in a boutique-style law firm.


BL: Can you tell me a little bit about your respective backgrounds? Where are you from, what are your legal backgrounds?

PV: Well, I used to work for Akin Gump Strauss Hauer & Feld one of the largest law firms in the US. I was a Managing Partner there. Prior to that, I spent nine years at Cleary Gottlieb Steen & Hamilton. Edwin Vermulst was also a partner there and Folkert Graafsma was an associate at Akin Gump.
Here at VVGB, we wanted to stay small and specialized with a focus on niche markets. We debated whether to grow with the market pressure. When Anne Vallery, Yves Van Gerven and Marco Bronckers joined as partners a year or so ago, we decided to grow internally rather than look for opportunities to join another major firm.
We were top students academically in the Belgian and Dutch context, went to reputable law schools in the US and eventually worked in the US. We try to duplicate this with the people we recruit here. We don't just look for local trainees; we look for people with backgrounds in different legal jurisdictions and with post-graduate degrees.
MB: At some point, at various stages, we all decided that we prefer a smaller 'boutique'-type environment. Yves, Anne and I decided on this path recently; Peter, Edwin and Folkert more than ten years ago. As Peter said, we've all been partners at big American firms. Yves and I at WilmerHale, where Anne was counsel.
If you look at our associates, you can see they're from all over the world – Asia, the US and Europe. This representation reflects that we enjoy working with different kinds of people from different places.
YVG: We made a conscious effort to be an international firm with different nationalities. We have clients in the US, here in Europe, and in Asia. As a quick overview of the range of areas we cover, we have three main practice areas: (1) international trade (which includes anti-dumping, WTO law, customs work, etc.); (2) Peter's field which is corporate transactions, tax restructuring, merger & acquisition work, etc.; and (3) EU competition law and EU regulatory.

BL: Okay that covers my second question: What range of issues does your practice cover? Could you tell me a little bit about the difference you've seen between working in a large law firm and a 'boutique'-style firm?

MB: The work we do now has not changed since I was in big firms. There are, however, differences in the way we work.
For instance, we can be very loyal to our clients. We don't have to worry about conflicts of interest, or more broadly commercial conflicts. If we want to work with someone, we don't have to worry and think "Is there another client who will be inconvenienced?" People who come to us now know that we're always available to them.
For me, this makes a huge difference. When I look back on my big firm years, it was stressful because when I was approached with a new matter, I immediately thought "Will the Business Intake Committee approve this?" I get a call from a client now; I can agree to working with them and do the job well. I don't have to go through the aggravation of whether I might have to turn a client down – even if I've already worked with them for some time and feel a high degree of loyalty towards them.
This is not to say that experiences before working here were all bad! I am happy to have had the opportunity to work for big firms, but I'm happier in this environment that we've created.
Other differences are that we have more flexibility to work on what we want to work on, we have the cost flexibility and the ability to work on matters that would fall between the cracks otherwise. All these things make the environment attractive. If we don't have business for two months, I don't have to think immediately "What will happen to the office, what will happen to the overheads, etc.?"
PV: We have to live in an economic reality. In my former firm, I was the only European on the Operating Committee. People worry in big firms, they worry about profit and numbers govern how people act within firms. This is not the case here. We won't deny that economics plays a role, but we're flexible and this gives us peace of mind. In big firms, some things are out of partners' hands. On the other hand, sometimes, here, we have to decide on too much. There are pros and cons to everything, but I feel that we have more certainty economically.
MB: I have to say, "peace of mind" could be the heading of this article. You decide more things for yourself, there is less of a focus on numbers and you don't have to worry about conflicts.
PV: An important point is also that we've all been trained in US firms. US lawyers are not trained specifically in one field, they move from one practice area to another. In Europe, it's a different case. Young people are put too fast into boxes. The world needs people who think outside the box and people who think holistically. In our practice, we don't put people in a box. It's not only anti-trust or anti-dumping. We listen to our clients and arrange ourselves in order to meet their needs. We give lawyers the opportunity to change within the different areas that we practice. This means they have to work and study a lot, but they learn a lot! Partners have more fun working in this way too.
I've enjoyed working with competent people and crossing boundaries in the last ten years. In a larger firm, you only look at income tax for example and you'll never sit with your client at a table and advise them on alternatives. That's what we do. That's why multinationals come to us instead of going to larger firms. We approach legal problems not in an isolated way but look at the total picture from different practice areas and try to be creative in finding solutions for our clients. It's not a better way by any means, it's just different.
YVG: As an addition to that, I'd just like to give you a quick overview of our internal structure. We have six partners and we're about twenty-five people in total. We're a very international group as Marco and Peter have already mentioned and everyone knows each other. The fact that we work in a very personal environment has an impact on how the firm works. In a small group, you feel more easily that you have a common goal. There isn't much hierarchy. Yes, we have partners, but there isn't much hierarchy between associates and partners and this is nice.

BL: As all of you have worked abroad, do you see any major differences in working in a law firm in Brussels as compared to, for example, London? What is practicing law in Brussels like?

MB: For me, Brussels is very stimulating because of its mix of people, from many jurisdictions, and this creates a certain intellectual environment. You also run across people with different nationalities in other international cities of course. But the difference in Brussels is that these people need to engage with each other's cultural differences when they work on the European project. This is true for people within the EU institutions, but it is also true for the many thousands of people like ourselves outside the institutions who work on EU-related initiatives. Within an international law firm like ours, in an ordinary work week you will easily be faced with observations like: "this really does not work from a French law perspective", you have to find another solution; or Greek courts do not work this way, so think differently.
It's also not just about Europeans. We have people from outside the EU, from the US, Asia or Africa, who have done their studies in EU matters as well, and who bring their perspective to the table as to what the European project means in a broader context. This is very stimulating.
PV: This city has changed dramatically compared to the early '80s when the EU consisted of nine Member States. It was a provincial town. I've worked in New York and London and these places have changed too of course, but Brussels has changed because Europe has changed. Brussels used to be home to three or four established American and British law firms before 1992. There were hardly any "EU" firms as such. Just prior to and in 1992, a big wave of international and/or EU firms started coming to Brussels. The EU is more pervasive here now and that's what makes lawyers want to stay here (as opposed to going to Paris or London). It makes practicing law more interesting.
In terms of atmosphere, trends come and go in waves. Corporate finance lawyers in London are trained differently than those in Wall Street firms in New York. It's difficult to compare Brussels to other cities. Practicing here can be challenging and as intense as in these other cities.
Of course the communication capabilities have changed everything. Where a lawyer works isn't important. Whether we travel or not, all we need is a Blackberry and a laptop. This means that we can get involved in transactions that we couldn't have been involved in in the past because they were in Frankfurt for example.

BL: How creative do you perceive your job to be?

MB: Very creative! It's a great job because you have to come up with practical solutions in a wide variety of legal and cultural contexts. EU law continues to produce new perspectives too. And I am happy to be surrounded by a stimulating bunch of young associates who force us to look at our cases with fresh eyes.
PV: There's little room for routine in what we do. This is true for everybody. You must be creative in each task that you do. You have to use what you know and look at the premises of what you have in front of you. This is the primary factor motivating us to move back to this 'boutique'-style working environment. Also, if you age in a big firm, you end up moving to management functions. It's different here because we're still involved in the legal action. This makes our life interesting.
YVG: From a litigation angle, creativity plays a large role in what I do. When a lawyer is before a court, it's his/her job to convince the judge and to find the simplest way to explain complex issues. For that, you must study the case really well and be original. The judge has to accept your position and for this you need to be ready to to debate all points of the case. This is a challenge and each case is a challenge for a lawyer when he/she goes to court. How do I present this? What's the best intake? And if you don't do well enough, you'll feel it because the opposite party is trying to be just as creative to convince the court.

BL: Thank you for your time and we wish you the best of luck in the future!